Sterling Silver Spiga or Wheat Chain
The silver wheat or spiga chain is one of our favorites. It has a smooth, soft, airy look and feel. This silver chain is pretty enough to be worn by itself but the smaller gauges are often used with pretty pendants or charms. Buy in quantity for our best wholesale silver chain prices.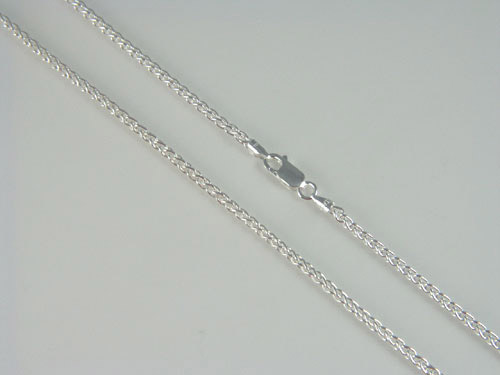 060 Spiga - 2.3mm
Our smallest size of silver wheat chain, this one is usually worn with pendants, charms or dangles. This chain has a delicate look but holds up well. It makes a great gift when adding a pendant like the popular CZ Journey pendants.

Qty
18" (9.3g) - $27.90 Qty
20" (10.3g) - $30.90 Qty
22" (11.4g) - $34.20Qty
24" (12.4g) - $37.20 Qty
30" (15.5g) - $46.50Qty
7" (3.6g) - $10.80 Qty
8" (4.1g) - $12.30Qty




080 Spiga - 3.3mm
The ? mm silver spiga chain is popular in both necklace and bracelet sizes. These make great gifts in sets and look very pretty when worn. This size silver chain and bracelet is suitable for almost anyone.


Qty
18" (16.7g) - $50.10 Qty
20" (18.5g) - $55.50 Qty
22" (20.4g) - $61.20Qty
24" (22.2g) - $66.60 Qty
30" (27.8g) - $83.40Qty
7" (6.5g) - $19.50Qty
8" (7.4g) - $22.20Qty




100 Spiga - 3.8mm
The 100 Silver Spiga chain is the largest size available and makes an elegant statement. This soft chain makes a perfect gift for birthdays, graduation or special occasions. These look great in bracelet sizes as well.