Silver Graduated Continuous Bead Chain
The silver graduated bead necklaces and bracelets feature a continuous line of silver beads. The beads start off small and graduate down to larger sizes in the front creating the effect of a large bead necklace without the expense or the bulkiness behind the neck. These are beautiful styles and are available in two different bead sizes. Buy in quantity for our best wholesale silver chain prices.
You can mix sizes and lengths to get to your quantity discounts.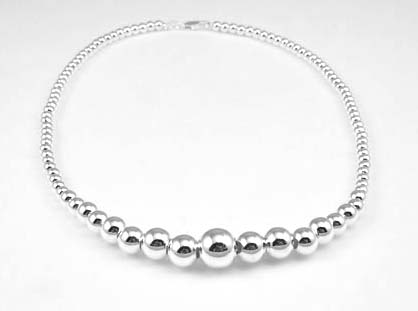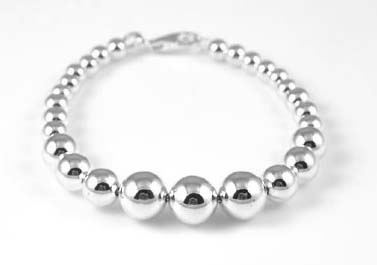 Large Graduated Bead - 4mm to 10mm
These silver graduated bead necklaces are a unique twist to the standard silver beaded necklaces and bracelets. The larger beads at the bottom create a larger silver look while maintaining comfort with small beads at the back of the neck. The graduated beads create a nice stylish effect. These larger ones are especially nice.

Qty
18" (23.4g) - $70.20 Qty
7" (16.1g) - $48.30Qty









Small Graduated Bead - 4mm to 6mm
For just a touch of something different, choose the smaller sterling graduated bead necklace and bracelet set rather than the traditional silver beaded sets. These graduate from 4mm beads at the top to 6mm center beads. These silver beaded sets create a look of a continuous line of silver.


Qty
18" (14.7g) - $44.10 Qty
7" (7.0g) - $21.00Qty