Sterling Silver Toggle Bracelets


Picture enlarged to show detail
FMB03-12
Average weight - 7.3 grams
Sterling Silver toggle bracelet. This bracelet features 7mm round rings. This toggle charm bracelet is a medium size and a great seller.



FMB27 - Thick Oval Toggle Rolo Bracelet with Thick Toggle
Average weight - 19.7 grams


Image enlarged to show detail
FMB14-7
Average weight - 6.2 grams
Sterling Silver Small Toggle Bracelet. This bracelet features 5mm round rings. A great versatile toggle charm bracelet. This toggle bracelet features lighter weight and smaller lengths for a great alternative to the adjustable rolo charm bracelet for a bracelet his is a little bigger and sturdier.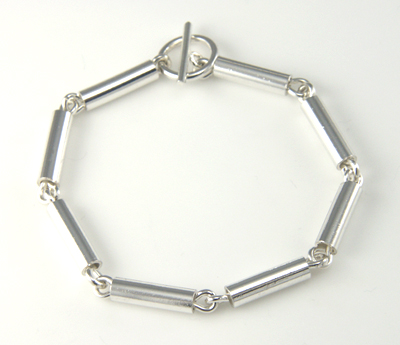 FMB05 - Length 7 1/2"
Average weight - 18.6 grams
Sterling Silver toggle bracelet. This bracelet feature tubes 4.5mm in diameter. A great unique look. This is not a charm bracelet but is such a unique design that we had to include it among the toggle bracelets. Only available in 7".